01-05-2021
 *** The Foundation Day of AIBSNLEA on 1st May 2021***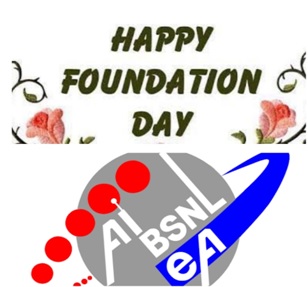 1st May 2021 is the 18th Foundation Day of AIBSNLEA. AIBSNLEA CHQ extends Warm Greetings & Best Wishes to one and all, as well as all the Members & Well Wishers of AIBSNLEA on this Occasion.
AIBSNLEA was formally launched on 01.05.2004 merging of 10 DOT Recognized Group-B Officer's Associations and thus represents in true sense all disciplines of Executives of BSNL i.e., Telecom Engineering, Telecom Finance and Accounts, Civil, Electrical, Arch, Telecom Factory Engg wing,  Personnel Staff (PA/PS/PPS), CSS staff, AD(O/L) and General Disciplines of BSNL.
Let us maintain the same spirit of Unity to achieve more and more Milestones in the days to come. Wish you all a Very Happy Foundation Day of AIBSNLEA.
We pledge together to strengthen AIBSNLEA to safeguard the interests of all BSNL Executives and protect BSNL as well………
AIBSNLEA  Zindabad.!!!…..AIBSNLEA  Zindabad.!!!…..BSNL Zindabad.!!!
WISH YOU ALL A  HAPPY  INTERNATIONAL  LABOUR DAY/MAY DAY 2021
"Hard work beats Talent when Talent doesn't work hard".
             CELEBRATE MAY DAY 2021
Archive AIBSNLEAWBTC
Branch Office Bearer
Visitor
About Union
useful links
CONTACT US
Mailing Address :
ROOM NO.: 74, 2 ND FLOOR ,
RANIGUNGE COAL HOUSE,
3A, CHOWRINGHEE PLACE,
Kolkata-700013
Tel.no. 033-2228 1188
Chief Advisior: 
Circle Secretary: aibsnleacswb@gmail.com
Circle President: