Archive News
01-08-2019
Land Management in BSNL
<<< Click-I >>>    <<< Click-II >>>
25-07-2019
<<< Press Release  BY CGM/WBTC >>>
23-07-2019
<<<<Click here for order for extension of date of filing of Income tax returns to 31st August, 2019>>>
20-07-2019
Intra Circle transfer in the cadre of JTO
<<< Click for order 1 >>>     <<< Click for order 2 >>>
Rearrangement of posting in the cadre of JTO under CO/Kolkata.
19-07-2019
Sri Subinay Chakraborty and Sri Biswajit Chakraborty have been elected as Organizing Secretary (East)  and Adviser (IX) respectively  at the 6th AIC of AIBSNLEA held at Vijaywada from 14.07.19 to 16.07.19. They are also presently discharging duty as ACS / WB and President Kolkata City-I Br. Heartiest congratulation to Sri Subinay Chakraborty and Sri Biswajit Chakraborty for their brave heart to face the challenges of the post of OS(East) and Adviser (IX) specially at this critical situation of BSNL.
18-07-2019
All India Conference,  Vijayawada – Third Day : 16th July 2019:
The session on third day commenced as per schedule with pending items of earlier session/day.
General Secretary's report approved unanimously.
Statement of Accounts approved unanimously.
Elections for the new body held unanimously. The complete list of the Central Office Bearers and  Auditor  is as mentioned below:
Central Office Bearers:
| | |
| --- | --- |
| Chairman | Shri Prahlad Rai, DGM (Retired) |
| President | Shri Subhasis Mitra, D.E. Kolkatta Telecom. District |
| Vice President – I | Shri Appalal J Chakoli, DE (QA), QA, Karnataka |
| Vice President – II | Shri A Srirama Rao, CAO AP |
| General Secretary | Shri S. Sivakumar, AGM/IFA, Telecom Factory, New Delhi |
| AGS (Head Quarters) | Shri Bhagwan Singh, DE Rajasthan |
| AGS (Engineering) | Shri S.K. Hiremath, DGM Karnataka |
| AGS (Finance) | Shri Raj Pal Sharma, DM, BSNL CO, New Delhi |
| AGS (Civil/Elect/Arch/TF) | Shri V.B. Pawar, SDE Telecom Factory, Mumbai |
| AGS (PS/CSS/Others) | Shri K.P. Nair, PS, Kalyan |
| Finance Secretary | Shri Ramnath Chabra, D.M., BSNL Corporate office |
| Assistant F.S. | Shri K Pushparajan JTO, Kerala |
| Organization Secretary (North) | Shri Devesh Sharma, SDE (T), Rajasthan |
| Organization Secretary (South) | Shri C Duraiarasan, DGM Tamil Nadu |
| Organization Secretary (East) | Shri Subinoy Chakrabarthy, SDE WB |
| Organization Secretary (West) | Shri A G Joshi, DE, Maharashtra |
14-07-2019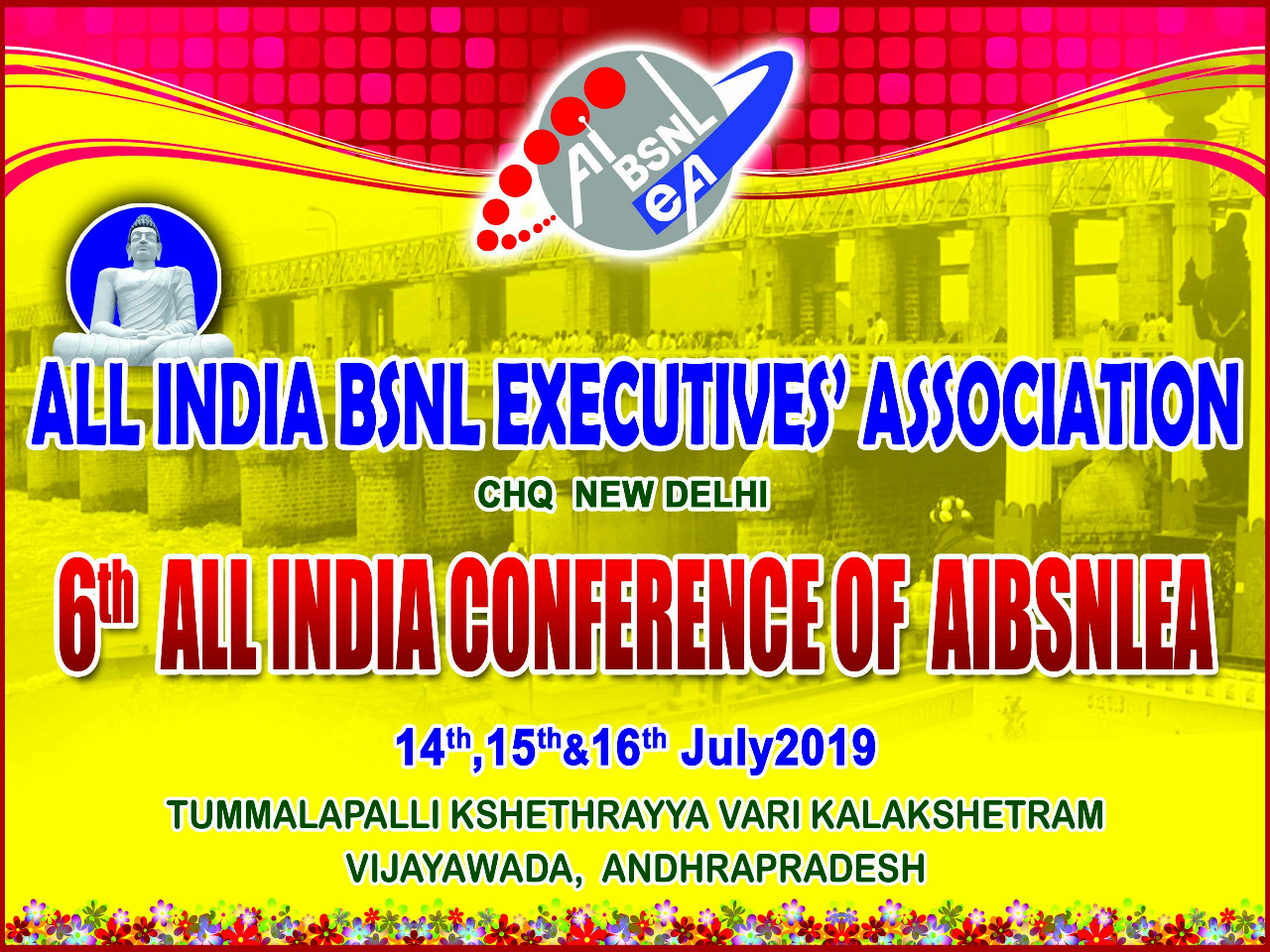 The 6th All India Conference of AIBSNLEA was started with flag hoisting by All India president Com.S.ShivaKumar in the presence of General Secretary Com.PrahladRai and delegates attended from all circles throughout India at "Thummalapalli kshetrayya vari kalakshetram" vijayawada.The first day deliberations of three days All India conference were started on 14.07.19.
11-07-2019
Upgradation of pay scale of AD (OL )/ Rajbhaaha Adhikari from E1  to E2.
06-07-2019
05-07-2019
Procedure for extension of CGHS facility to Retired BSNL Employees.
AIBSNLEA  consistent efforts yielded results in getting released the letter from DOT regarding  CGHS facilities to retired BSNL/ MTNL employees who are in receipt of pension from central  civil Estimates  – revised mapping for determining CGHS subscription and ward entitlement. 
03-07-2019
TIME BOUND UP GRADATION UNDER EPP – CASES DUE UP TO 31.12.2019.
03-07-2019
A  General Body Meeting of AIBSNLEA ETP Br. was held on 03.07.2019 at Mominpur, Kolkata  in the presence of CSs of AIBSNLEA & other Circle leaders 
Archive AIBSNLEAWBTC
Branch Office Bearer
Visitor
About Union
useful links
CONTACT US
Mailing Address :
ROOM NO.: 74, 2 ND FLOOR ,
RANIGUNGE COAL HOUSE,
3A, CHOWRINGHEE PLACE,
Kolkata-700013
Tel.no. 033-2228 1188
Chief Advisior: 
Circle Secretary: aibsnleacswb@gmail.com
Circle President: